Applying for a birth certificate for your baby in Germany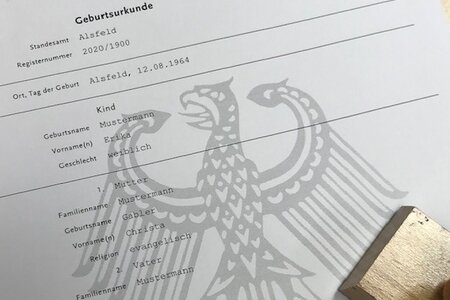 Congratulations on your upcoming bundle of joy! As you prepare for your little one's arrival, it's important to remember that certain legal requirements come with the territory of becoming a parent. In Germany, obtaining a birth certificate is a crucial step as it is required for a variety of purposes, such as obtaining a passport or applying for Elterngeld and Kindergeld. If you're expecting a child in Germany, it's important to understand the process so in this blog post we'll guide you through the steps of applying for a birth certificate in Germany. This way you can rest assured that you have everything in order when your little one arrives.
Step 1: How to Prepare the Necessary Documents Before Birth for Applying for a Birth Certificate in Germany - A Guide for International Parents
If you're planning to obtain a birth certificate for your newborn in Germany, it's important to know which documents you'll need to prepare in advance. Here's a list of essential documents required to get your baby's birth certificate:
Passports of both parents
Birth certificates of both parents-to-be (officially translated into German or an international version thereof)
Declaration of paternity / Vaterschaftsanerkennung (if applicable, in the case of unmarried parents)
Parents' marriage certificate (officially translated into German or an international version thereof)
Proof of address (Meldebescheinigung), if not indicated on your passport

If your situation involves divorced or widowed parents, it's recommended to contact the Standesamt to confirm which additional certificates or translations are required. By having all necessary documents ready, you can ensure a smoother and faster process for obtaining your baby's birth certificate.
Step 2 - Determine the Required Certificates
When you obtain your baby's birth certificate in Germany, you'll receive three short-form certificates for specific purposes, including Elterngeld, Kindergeld, and Mutterschaftsgeld. It's important to check the top of the certificate to identify which one is which. Additionally, you'll receive two short-form birth certificates for your own records, which should be kept safely.
If you're planning to apply for your baby's passport from your home country, it's recommended to check the embassy or consulate's requirements. In many cases, a long-form birth certificate may be required ("beglaubigte Abschrift aus dem Geburtsregister"), which you can request when applying for the original birth certificate. For an additional fee, you can also order an international birth certificate, which may come in handy and is more cost-effective than getting the German certificate translated. The fee for a long-form birth certificate or international birth certificate is 12 Euros for the first one and 5 Euros for each additional copy. By knowing these options, you can obtain the necessary birth certificates for your baby efficiently and effectively.
Step 3: Choosing Your Child's Last Name for the Birth Certificate
If you're wondering about naming laws in Germany and what last name you can give your child, here's what you need to know. German naming law provides only three options for your child's last name. If both parents are married and have the same last name, then that will be the last name of the child. If the parents, married or not, have different last names, the child can either take the father's or mother's last name.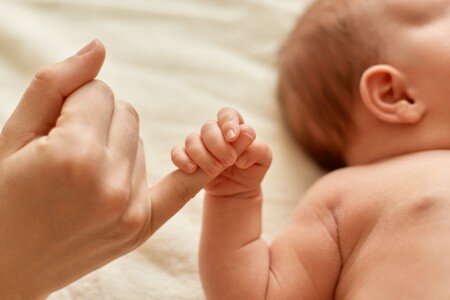 However, if one or both parents have citizenship from another country, it's possible to choose that country's naming law instead. To do so, you must indicate the country's law on the name form by crossing off the "C" and specifying the country. For instance, you might choose the Spanish-speaking custom of combining the father's and mother's first last names.
Please note that you cannot select the naming laws of a country where you don't hold citizenship or of a country that allows for "fantasy names", i.e. a name that the parents have picked freely. Also, if one of the parents holds German citizenship, the authorities might force you to apply German naming law.
Step 4: Obtaining a Baby's Birth Certificate in Germany: The Application Process
If you give birth in Germany, you need to request your baby's birth certificate at the registry office (das Standesamt) in the area you gave birth in (not where you live).
If you give birth in a hospital, there will usually be someone to take your paperwork. This is someone who works at the Standesamt but has an office in the hospital where you can drop off your paperwork. They will ask you there how you want to name your child (more on that later), and what type of birth certificates you want etc. Note they will not give you the birth certificate there and then. They will collect all your documents, bring them back to the Standesamt with them and then you will receive the birth certificate in the post (or a notification that the certificates are ready for pick-up at the Standesamt).
If you give birth at home or in a Geburtshaus, you will receive an 'Anzeige der Geburt' from the attending midwife. You will need to bring this to the Standesamt of the birth area within 7 days of the birth together with the other supporting documents.
In conclusion, applying for a birth certificate in Germany can seem daunting at first, but with the right information and preparation, it can be a smooth process. Remember to gather all the necessary documents, consider ordering extra copies of the birth certificate, and be aware of the naming laws in Germany. If you have any further questions, don't hesitate to reach out to the Standesamt for guidance. Congratulations on the arrival of your little one, and we wish you all the best as you navigate parenthood in Germany!
Looking for help navigating pregnancy and new parenthood in Berlin? Baby in Berlin is your go-to concierge service for international families expecting a baby in Germany. I can assist with organizing paperwork related to birth and baby, and ensure a smooth Elterngeld application process. Book a consultation with me today to get started!