Interview with Jessica Strickmann – part 1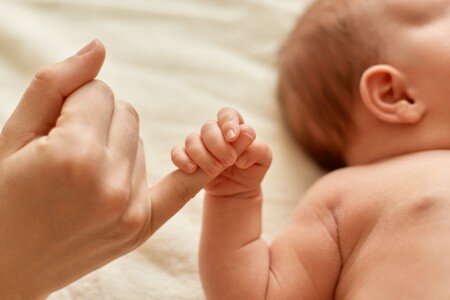 In this episode I talk to Jessica Strickmann, an on-call midwife, a Beleghebamme, working in Berlin Sankt Joseph hospital. She is the founder of the Erdmutter Kollektiv, a collective of on-call midwives offering prenatal care, birth care and postpartum care to families all over Berlin. She lives in Berlin with her three children. I was really excited to have Jessica agree to this interview, because she is nothing less than a rockstar in the pregnancy and birth world in Berlin.
I had to cut this interview in two parts as we had so many topics to discuss. In this first episode, listen as Jessica explains the difference between a Beleghebamme and a "normal" midwife. She will also talk us through the pregnancy care the midwives offer as well as the relationship between midwives and gynecologists during pregnancy, and what you can do if they don't get along. Jessica will explain the various options in terms of birth places when you have a Beleghebamme and how Covid changed the way parents want to give birth.
Listen on your favorite
platform
Baby in Berlin is a concierge service for expecting international families in Germany who need assistance with the organization of their pregnancy and the paperwork related to baby and birth. I have helped hundreds of families organizing their pregnancy to secure the best team and ensure a smooth process from the beginning. If you want to take advantage of my experience, book your Pregnancy organization consultation today!