HAVING A BABY IN GERMANY
- THE ONLINE COURSE -
Are you pregnant in Germany and need some information as to how the system works here? Do you need to get a clear understanding of the next steps, what to do and when? Or you already started looking online for some information and are a bist lost as to what your options are? You've come to the right place, this online course is for you.
What is
HAVING A BABY IN GERMANY?
Whether you're planning on getting pregnant in Germany soon or in the middle of your pregnancy already, this workshop is the right place for you to learn about the following:
Gynecologists, midwives, medical exams in the pregnancy

Birth places & Doulas

Birth preparation courses 

Father declaration & custody rights agreement

Kindergeld & Kinderzuschlag

Baby's birth certificate, naming law

Immigration & passport

Health insurance options for your child

Post-partum and post-birth courses

Pediatrician and U-Heft

Where to go when your baby is sick and the sick child pay allowance
The course is organized as a series of explanatory on-demand videos discussing one topic at a time. You can view the videos in one setting or over the course of several days / weeks. You have the option to stop the videos, view them several times, etc. 
I have also taped a video showing you how to fill in the application for the Kindergeld so you know what to put in which field.
In addition to the videos, I have included a number of checklists (how to find a midwife, which documents are needed for each procedure etc). The course also includes the application forms for Kindergeld in English with a list of the required supporting documents. I also give you a number of useful websites and a to-do list so you don't miss a single important task.
After this course, you will understand the system of pregnancy and birth in Germany and have a clear idea of what you should do and when. Stop trailing the internet for information on what to expect and what needs to be done!
Here are the
DELIVERABLES
Online course - Having a baby in Germany
more than 40 bite-size videos about the pregnancy, birth and post-partum system in Germany

an explanatory video to show you exactly how to fill in the application for Kindergeld

checklists of supporting documents for your Kindergeld application, baby's birth certificate, father declaration etc

a guide on how to find a midwife in Germany

my tips and tricks from supporting families all over Germany for the past 6 years

lifetime access (your access will be paused for practical reasons after 12 months but can be reactivated anytime)​

Important : this course does not include information on Mutterschutz, Mutterschaftsgeld, Elternzeit and Elterngeld. For information on these topics, check out my Elterngeld & co course
Have you checked my two other online courses for more information and advice on Elterngeld and finding a Kita in Germany?
Chapter 1: Organizing your pregnancy
In this chapter, I will cover what to expect from gynecologists in Germany when pregnant and how to find one as well as the main differences which have surprised some of my clients. 
I will go over the midwife system, what services they provide, why you might need one, how to look for one and what to do if you dont find one. 
I will explain what medical exams are standard for pregnant women in Germany, and which ones cost extra but might be worth thinking about. 
Chapter 2: Organizing
your birth
Here I cover which options you have in terms of where to give birth in Germany, their differences, when and how to register for each one and how to pick the place most suited to you. 
I also talk about doulas, their role and why you might want to consider hiring one. 
I finally dig into various methods for birth preparation available in Germany, from the standard birth prep course to more holistic techniques.
Chapter 3: Baby
Bureaucracy
In this chapter, I explain what a father declaration and custody declaration is, whether you need one, why it's important and how to organise this procedure. I also cover what Kindergeld and Kinderzuschlag are, and how to to apply. I will tell you the procedure to get your baby's birth certificate, which documents to prepare, what names are allowed etc. I will also discuss topics around immigration and health insurance for your child.
Note: Mutterschutz, Mutterschaftsgeld, Elternzeit & Elterngeld are not covered in this course. Please check my Elterngeld & Co course for these topics.
In the post-partum chapter we will discuss what your post-partum in Germany will most likely be organized and when the various appointments will occur (midwife, gynecologist, pediatrician etc). I explain what types of post-partum classes are available, and which ones might be covered by your health insurance.
Here I cover topics like finding a pediatrician, what the U-heft is, vaccines in Germany and much more. We will for example discuss what to do and where to go if your child is sick in different scenarios, as well as whether you can get paid for days when your child's sickness prevents you from going to work.

Frequently asked
QUESTIONS
About your course
INSTRUCTOR
Hello, I'm Elodie and an expert in all baby-related matters in Germany.
I founded Baby in Berlin in 2017 after two pregnancies as an expat mother in Germany, where I suffered from a lack of information and advice about the pregnancy system in this country. I know first-hand what it's like to not know what to do when, and worst of all, to find out about all my options way too late. My mission is to help expat families in Germany prepare for their journey to parenthood in Germany in the best way possible.
Check out my other courses or the individual services I provide for more information.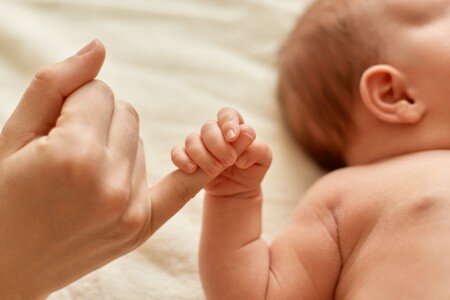 Sign up here for my online course Having a baby in Germany!