What to bring for a hospital birth in Germany? (Mother's edition)
The due date is coming quickly and you're still wondering what you should pack in your bag? If you don't want to forget anything important but don't  need the unnecessary luggage, we've got you covered.
The list can be very long, but I've decided to focus on the essential items here, because who needs another endless list right before giving birth?
Hospital bag checklist in Germany: clothes
For the mother the keyword here is: comfortable! For the birth itself your bottom half should be covered yet accessible (ahem!), large shirts or a night dress are ideal for this. For the days after birth, if you decide to breastfeed then you should wear clothes that open easily at the bosom. Again, a very large buttoned shirt is great for this. You may be a bit cold as your body is recovering so a dressing gown (robe) is a good idea, as well as slippers for roaming between your room and the bathroom. Note that if you plan on wearing pyjama bottoms, you should bring a few pairs and pick dark-colored ones, as you will most likely be bleeding after birth.
For the baby, the hospitals provide all the clothes needed, as well as infant sleeping bags. You can use your own sleeping bag for the baby but they will usually frown upon you using your own baby clothes. It's actually easier for them if they have to take the baby for an exam, change them or bathe them etc, not to have to ask for a change of clothes from you.
However you should have one full outfit ready for the baby to leave the hospital: body, pyjamas, socks and hat and an overall unless it's a really warm summer day.
Hospital bag checklist in Germany: food
Hospital food is reputedly not very good, and Germany is no exception. Plan to bring plenty (and I mean plenty!) of healthy snacks and drinks for the birthing mother and the partner as well. Think energy bars, dried and fresh fruit, sandwiches, nuts, tea bags etc. The snacks should be replenished by the partner on a regular basis, even and especially after birth.
When the mother is in the maternity ward after birth, don't hesitate to bring her food from "the outside" in the forms of stews, soups, porridge and the like. Breakfasts and dinners are the most difficult in Germany, as they are almost identical with bread, cheese and cold cuts. It's a great idea to bring an extra meal in as a replacement.
Hospital bag checklist in Germany: paperwork
It wouldn't be Germany if there wasn't a bit of paperwork involved. Here is the list of things you should not forget:
The birthing mother's health insurance card
Your mutterpass
The documents for the baby's birth certificate (see article here)
Potentially the consent forms for the epidural if you are thinking of getting one
Hospital bag checklist in Germany: other
This is where it can get tricky and very exhaustive but, in my opinion, here are the essentials:
Phone charger with a long cable because the plug will be far behind you on the bed
Earphones to listen to some music or hypnobirthing during labour and make some calls hands-free after birth
Essential toiletries (maybe including some period panties to use instead of the hospital-provided combo mesh panties + sanitary pads)
Car seat if you're coming home by car (otherwise most taxis will provide one if you ask) or stroller if you're walking / using public transport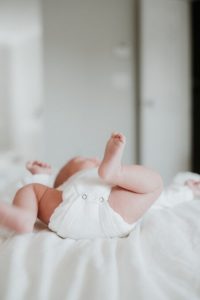 I thought I might list a few of the most quoted items that my clients have taken and never used, just in case it would cross your mind:
Clothes: pre-pregnancy jeans (they won't fit yet), breastfeeding bra (I'm on the fence with this one but I think most mothers don't use a bra that early on when breastfeeding), proper baby outfits (they usually wear pyjamas the first weeks)
Toiletries: make-up, sanitary pads, mesh panties (will be provided), nappies & baby wipes
Breastfeeding: breastfeeding cushions, breast pump, nipple shield, nipple cream. Everything will be provided, unless you prefer your own brand of course
Bottle-feeding: bottles, formula etc. will also be provided
I have summarized this list in an easy checklist, download it here to put on your fridge!
How about you? What did you think of bringing that is not mentioned on the list?
Looking for help navigating pregnancy and new parenthood in Berlin? Baby in Berlin is your go-to concierge service for international families expecting a baby in Germany. Our team of experts can assist with organizing paperwork related to birth and baby, and ensure a smooth Elterngeld application process. Book a consultation with us today to get started!