What goes on for Halloween in Berlin?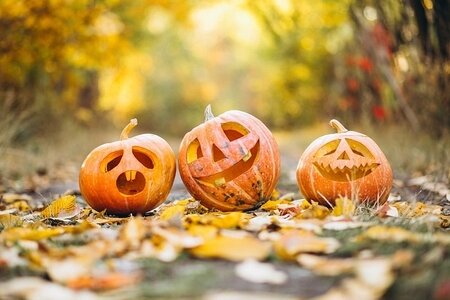 It's nearly time, Halloween is coming round and you might be wondering what's happening in Berlin for the occasion if it's your first time here, or your first time as a parent. Halloween in Germany only picked up 4-5 years ago so it's nowhere near as celebrated here as it may be where you're from, certainly if you're from the US you're in for a surprise. We've tried to gather here some tried and tested areas for Trick or Treating, as well as some Halloween parties you might want to try out with your little ones.
Well firstly not a lot of people participate, so you may find that a lot of your neighbors will be surprised if you turn up unannounced. Then it's pretty sporty, think about all these stairs you're going to have to go up to. In some areas, the "candy" is very upmarket and not candy at all but people may prefer handing out fruit or healthy snacks.
Where to go trick or treating?
All around Kollwitzplatz and Helmholtzplatz, cafés, restaurants and shops will hand out candy. Beware, it is really busy and there are lots of kids so be early if you don't want to leave empty-handed.
All around Boxhagenerplatz, same as above.
On Bergmannstraße between Mehringdamm and Marheinekeplatz, you can ring the doorbells of most apartment buildings, they are usually prepared with candy.
Probably the best trick or treating you'll find in Berlin with lots of houses participating, decorating and now high floors to walk up to. Head over to the quadrant between Goldfinkweg, Dünkelbergsteig, Clayallee and Pücklerstraße. You won't regret it.
A sweet family started organizing a trick or treat in the Monbijou Park a few years ago. You just turn up with your children, their costumes, some candy, you give some and get some. This year's event can be found here. 
Halloween parties in and around Berlin
FEZ Berlin organizes a huge Halloween-themed event that lasts for a couple of weeks, including a haunted house, and a Mexican-themed marketplace and a ghostly garden. Tickets here.
Britzer Garden organises a cool event every year on October 31st, complete with fire show, a price for the best Halloween costumer and some live music. See here for this year's party.
For a more sporty Halloween where you can burn off all these calories, the Volkspark Jungfernheide has an Halloween run with a decorated track that promises to have you running for your life.
All other parties can be found here.
My tips for trick or treating in Germany
How do you say "trick or treat" in German? "Süßes oder Saures!"
Try and be respectful of indigenous cultures when dressing up. Something which may be common where you come from might not be well accepted here (e.g. "cowboys and indians", etc).
Go early. Germans are always early and Halloween is no exception. Whenever we tried to go from 6pm it was usually too late, I would suggest 4pm in busy areas if you can, so as soon as dusk settles.
Bring some flashlights. Depending on where you are, if you're in a baldy-lit area or in a park, this could be a lifesaver so you don't lose anyone.
Go as a group. Most children will go as a group with the parents tagging behind. It makes it more fun for them and for you. If you go round apartment buildings, the children can go up together and the parents can wait on the ground floor.
If you live in an apartment block, it may be a good idea to go round your neighbors in advance or leave a note by the entrance that you're thinking of trick or treating so they are prepared.
If you go round apartment buildings, ring one bell at a time and wait for answer before ringing the next one. Otherwise if someone answers their bell and you rung another one in the meantime, they will not be able to hear you.
Was this helpful? Follow me on social media for more tips on living in Berlin as a family! Or drop me a note if you know of other good places to go trick or treating!
Baby in Berlin is a maternity concierge for international families in Germany, helping them organize their pregnancy and deal with all the bureaucracy linked to having a baby here. Get in touch if you have a question about any of my services.