How to choose your birth hospital in Germany? Our 5 top tips
If you know you want to give birth in a hospital, you may be looking at various options right now. I know it can be difficult to choose. You probably heard the best and the worst about each place so how do you know whether a hospital is the right one for you? I give you my top tips here!
Location, location, location
This seems trivial but it can become very important when you have other children at home. Your spouse may need to travel back and forth between home and the hospital, and if the hospital is 45 minutes away it can become difficult. Same applies if you decide to give birth at home and are looking at a hospital as a "back-up". In this case, it may be better to have your back-up hospital not too far away. If you are in neither of those circumstances, location should not matter so much, births usually process much less quickly as in movies so you should not have to rush even if you choose somewhere a bit further away.
If you have a risk pregnancy, then your options are going to be limited anyway. It's important to first filter through the hospitals which will be able to take you on. For example, some places will not accept to register you if:
you have gestational diabetes or type 1 diabetes

you have a history of pre-eclampsia

you got pregnant via IVF

you're clinically obese

you're on anti-depressant
If you have any doubt, ask your gynecologist or midwife if you fall under the category of risk pregnancy and check with the hospital(s) you're considering if they have any restrictions.
Your best bet in this case is always a so-called level 1 hospital, which can offer all the services and amenities you may need during birth.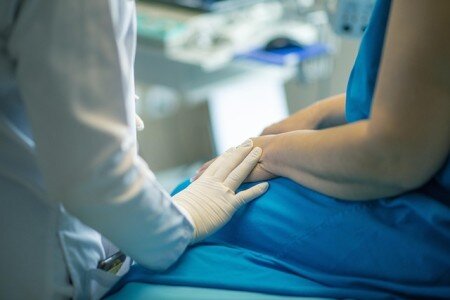 Depending on where you come from, you may have a specific idea of how to manage the pain during birth. I know that usually my British clients may expect laughing gas, French mothers might want an epidural while others may like to try out some alternative techniques like aromatherapy or homeopathy. Research online or ask during the information evening what type of pain management is offered. For some it can be as simple as having the option of taking a bath whilst in labour etc so whatever floats your boat should be offered in your hospital of choice.
Birth / labour room ratio
This one is a little bit of a secret tip. It's the ratio of number of birth by the number of labour rooms. If a hospital boasts 1000 births per year and has 4 labour rooms, you know they have to have a quicker turnaround that a hospital with 500 births per year and the same amount of labour rooms. A quicker turnaround time may mean less time for each individual birth and more interventions on the birthing mother.
Don't forget the after-birth
When you pick a hospital you are probably thinking about the birth in itself, but many forget to give enough thought to the after-birth care. Does the hospital offer family rooms where the partner can stay overnight? What is their policy regarding visitors? Can you have access to an in-house breastfeeding consultant? are all questions you should ask when you're selecting a hospital.
In any case, I would advise you to refrain from considering all available options (more than 15 in Berlin) otherwise your brain might explode. Focus on 2-3 hospitals you've heard good things about and dive into each one before making your final decision. Go through the criteria above but also attend an information evening. One thing I don't advise you to do is to try and read everything single personal experience from other parents. Depending on the day, the way the birth is going, the level of staffing, each hospital can deliver a truly awesome or awful experience. There will always be good and bad things said about every place. But once you have made up your mind, stick to it and be confident you have made the right choice. This will help you go into birth with peace of mind and will help the entire experience.
Baby in Berlin is an international family concierge, helping expecting and new parents with the German baby bureaucracy. Get in touch for your very own personal consultation to help you organize your pregnancy or your paperwork. We look forward to helping you on your way to parenthood.